I am attempting to catch up on the past seven weeks of what's Baybo has been up to. I'm going to be singing the "catch-up" song for a while, being 7 weeks behind! Despite all that's been going on I have of course taken many pictures of adorable moments with Mr. Precious that I simply must share!
I purchased Bowman's first
set of blocks
about three weeks ago. After looking around I decided on a set made by Haba, one of our fave toy brands. They are made of soft, smooth wood and colored non-toxic stains, in nice bright colors. Made in Germany, it is SO hard to find a toy thats not made in China these days! My favorite developmental book "Bright From the Start" recommends introducing objects with one variable; shape and size the same with different coloring, or same coloring but different size or shape and so on...
They arrived during Bobbie and Poppies visit (March 18th-22nd), as you can tell he didn't like them very much :). They continue to be a hit, of course at this point he just mouths them and clacks them on each other, and knocks them down when we stack them up. How cute is he with them for the first time?!
Then Bobbie joined in on the fun and got some special KISSES!!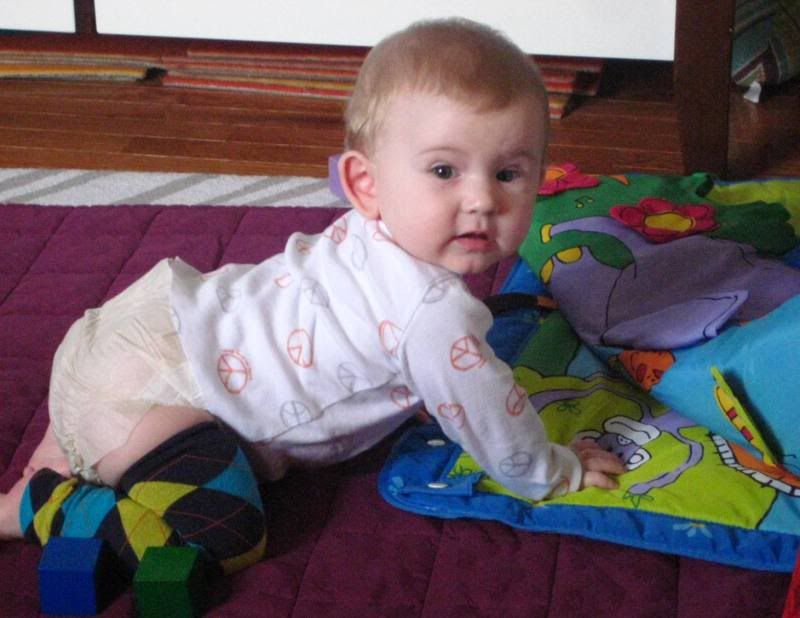 Oh hi, I'm Baybo.